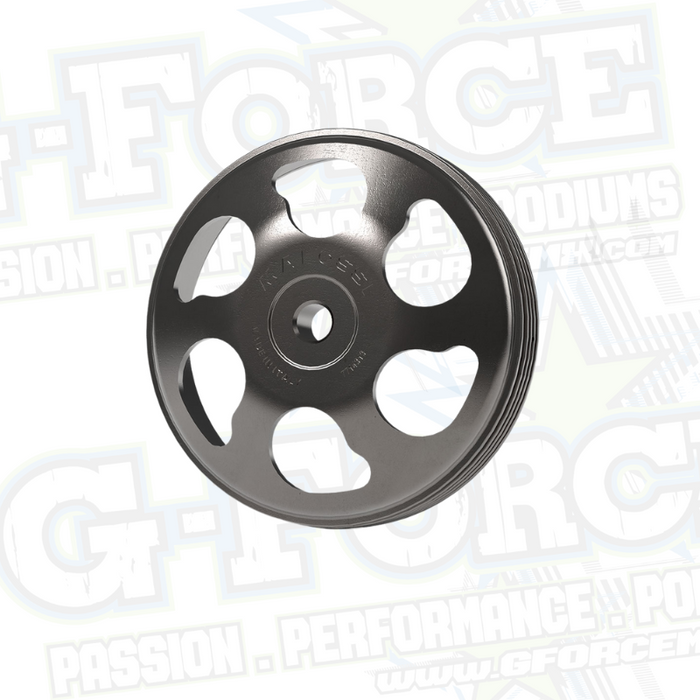 Malossi 107mm Clutch Bell - Pro Race (479 Grams)
Save

0

%
Save %
Original price
$135.99
-
Original price
$135.99
Wing Clutch Bell ? Forged Steel Alloy
for Automatic Scooters CVT
The clutch bell has been developed and manufactured in our Calderara di Reno engineering plant using proprietary processes.
Machined from a single steel alloy-forging, surface hardened and tempered, no welds, these new clutch bells feature an innovative manufacturing process and attention to the finest details guarantee a highest quality product.
Designed and developed by our engineering department and handed over directly to our manufacturing, where our latest generation of Numerically Controlled lathes convert the 3-D solid models into final products.
The clutch bell machining process starts with a forging and exits the NC lathe completely finished, ready for heat-treating and wear resistant/anti-corrosion surface treatment, with no human intervention.
Technical Specifications

CONTACT US
Forged clutch bell, without welds, made of 39NiCrMo5 steel, nitrogen surface hardened with an antioxidant surface treatment.
Machined finned reinforcement corona enhances heat dissipation, protecting the clutch's friction material, tested to over 20,000 RPM.
Radial scraping holes added to the contact surface, sized and positioned to continually clean the clutch's friction material.
Original system concept with openings designed to create dynamic ventilation and offering the possibility to adjust the internal clutch settings.
Highest levels of finishes and extreme close tolerances maintained.
Working Surface Tolerances
Surface finish Ra 0.5 µm
Circular Runout: 0.05 mm
Circularity: 0.08 mm
Balancing: 0.5 g
Made in Italy "Malossi"
High Tech response to low quality counterfeits
Malossi does not stop after the design stage, asking others to manufacture what its engineers developed: Malossi follows thru by manufacturing in-house, researching the best materials, and following step for step the development of its products that bear the Malossi logo.
This is what makes the difference!
* Images - prices - features may change at anytime without notice