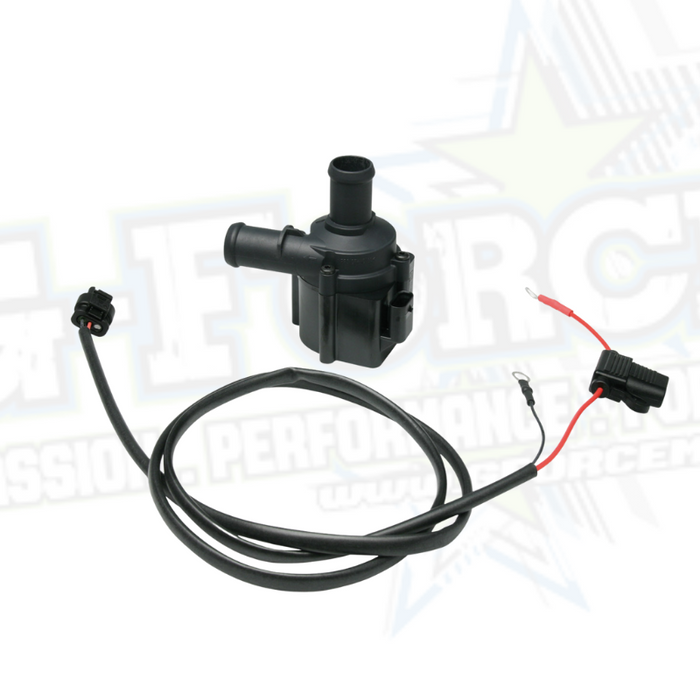 Electric Water Pump - Malossi
Save

0

%
Save %
Original price
$193.75
-
Original price
$193.75
ENERGY PUMP is a water circulation pump for all liquid cooled, two and four stroke scooters and motorcycles equipped with a mechanical pump.
ENERGY PUMP can be installed as a replacement in all vehicles that use an electric pump, improving efficiency.
The new MALOSSI ENERGY PUMP eliminates fiction loss and mechanical failures, operates silently, is easy to install, and comes complete with fuses and wiring.
A new impeller and a more powerful electric motor have allowed an increase in power of 33% compared to the previous version. The electronic management of the internal pump has been improved so as to maintain a constant power supply range between 10.5 V and 14 V.
This smart pump is equipped with an electronic card, once interfaced with a dedicated electronic control unit, can more precisely control the coolant temperature within the specified values.
These characteristics raise the ENERGY PUMP to a superior level. It's potential and versatility makes this a coolant pump ahead of its time.
In an internal combustion engine, good coolant circulation is a guarantee for improved efficiency, performance and durability.
SPECIFICATIONS

CONTACT US
The pump is enclosed in a rugged PPC, a light and unbreakable polymer, resistant to high temperatures, acids and fuels.It uses a 12V feeder supplied by the battery and has a robust electric motor with brushless excitation technology.
Traditional mechanical cooling pumps are normally driven by the crankshaft and follow the rpm of the engine. For this reason, they are not always able to supply the correct flow for proper cooling, e.g. low engine speeds and high loads.
ENERGY PUMP is equipped with an electronic card (electronic switching WCP) which, combined with a dedicated controller, allows you to adjust the flow rate to the cooling requirements of the engine, regardless of the conditions of the engine speed and of the applied loads.
This means that the engine always operates with optimal coolant temperatures.
| | | |
| --- | --- | --- |
| | Units | |
| Voltage Range | V | 9 ÷ 15 |
| Nominal Voltage | V | 12 |
| Pumping Capacity @ 100 mbar | L/h | 1200 |
| Current Consumption (12V, 100 mbar, 23°C) | A | 1.6 |
| Operating Temperature | °C | -40 ÷ 135 |
| Nominal RPM (12V, 100 mbar, 23° C) | Rpm | 3200 |
| Protection Class | | IP55 |
* Images - prices - features may change at anytime without notice